PhunkyFoods
This year we have joined the Phunky Foods programme using funds from the Health Improvement Grant. We aim to deliver a whole school approach to healthy lifestyles and healthy eating habits. This involves engaging parents in fun activities with their children.
We have started a cooking club each week in which all the children will have a chance to participate throughout the year. Parents are invited to come along and cook with their children and then use the recipes at home.
You can find out more about Phunky Foods by visiting their website at www.phunkyfoods.co.uk
This term's recipe is FRUITY MUFFINS
Mrs Baldacci has been leading a cookery club the Reception children. We have been lucky to have so many parent helpers and wish to say a huge thank you to all that have come along to cook with the children.
Please see the recipe which the children have thoroughly enjoyed making.
Equipment
Knife, chopping board, grater, weighing scales, measuring cups and spoons, measuring jug, small bowl, fork, mixing bowl, wooden spoon, ladle, muffin cases, muffin tin, skewer, oven gloves.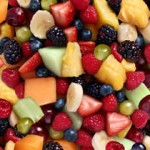 Ingredients (serves 6):
50g carrot, peeled and finely grated
100g diced fruit
110g plain wholemeal flour
25g wheatgerm
2 x 5ml (level) baking powder
1/2 x 5ml spoon ground cinnamon
50g light soft brown sugar
50 ml semi-skimmed milk
50 ml sunflower oil
1 medium egg, lightly beaten
Method
Preheat the oven to 200°C / Gas Mark 6.
Prepare the fruit and vegetables.
Place the grated carrot into a large bowl and stir in the flour, wheatgerm, baking powder, ground cinnamon and sugar.
Gradually add the milk and oil followed by the egg and mix well until evenly blended. Finally stir in the fruit.
Divide the mixture into 6 muffin cases and bake in the oven for 20 minutes until a skewer inserted into the centre comes out clean. Remove the muffins from the oven using oven gloves and leave to cool slightly before serving.
So thinking about FRUITY MUFFINS ...
Muffins tend to be high in fat and sugar, although some are worse than others. The Eatwell guide says that if you are consuming foods and drinks high in fat, salt and sugar we should have these less often and in small amounts.
Fruit are high in a variety of vitamins, minerals and fibre, and they are packed with lots of different substances called phytochemicals. Phytochemicals can help protect our bodies against disease.